Bend Your Body and Straighten Your Mind
Our Philosophy
We're dedicated to creating an environment for students to maximise their physical and mental wellbeing.
Asylimb was deliberately chosen as the studio's name as it imbues an idea of 'asylum' being protection granted by a state to an individual who has left their home country as a refugee and 'asylum' being an institution for the psychological care of people.
With a nod to the physical body too, Hot Yoga Asy'limb' is determined to provide a caring and protected venue for students of all abilities to safely increase their mental and physical development through regular targeted exercise. Our studio is for beginners right through to the experienced student to safely and quickly gain the many benefits a hot yoga practice can provide. These include detoxification, destressing, weight control, increased fitness, flexibility, balance, patience, stamina, focus, strength and overall well-being.
As all Hot Yoga Asylimb's yoga classes are designed to minimise impact on the body and all teachers are internationally accredited, each Mukti, Yin, Flow and Nidra session is ideal for all people regardless of fitness and ability.
Hot Yoga Asylimb is an independent hot yoga studio. Our focus is to provide a studio where our students can learn and improve at their own pace, while focussing on their own specific goals in a relaxed and supportive environment.
Our Classes
Each class in our boutique studio will be a peaceful retreat from the hustle and bustle of everyday life. We offer several different styles of yoga – Mukti, Yin, Flow and Yoga Nidra. In each class our certified teachers guide students through a specific series of postures designed to balance and improve the health of the entire body and mind. For a full a description of each class click on images below.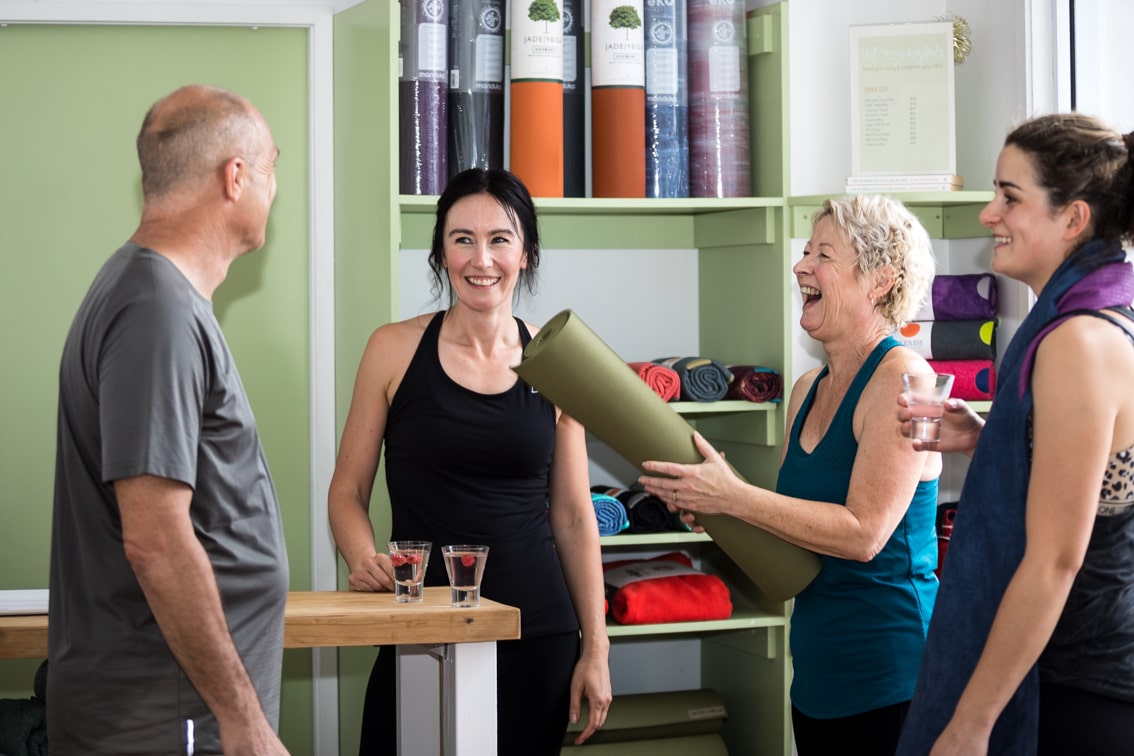 Our Studio
Hot Yoga Asylimb's spacious and welcoming reception area is the ideal introduction to your yoga experience. Polished wooden floors and calming uncluttered white walls encourage a sense of arrival and sanctuary as you enter.
To feel fully prepared for each class, the changing rooms are modern and well appointed.
The pre-heated, automatically adjusted lighting and ventilated studio room, continues the same floor and walls theme as the reception area, complimented with a high ceiling and full length mirrors along the entire front of room aspect.
The studio perfectly suits students of all abilities who wish to wash away the troubles of the day through a relaxed practice session or extend themselves physically.
Our Footprint 
At Hot Yoga Asylimb it is important to us to provide you with a healthy space to practice in, while also minimising our environmental impact.
Here are just some of the ways we are doing this.
Sustainable biodegradable Jade rubber mats

Recyclable cork blocks

All natural cleaning products

Paper-free booking system

Non toxic VOC paint

Salvaged natural rimu wooden flooring

Salvaged kauri reception desk
Phone
For more information or to chat about what option is perfect for you please reach out and contact us, we love to hear from both prospective and existing students.
09 239 2423